Click on the image to expand the map below.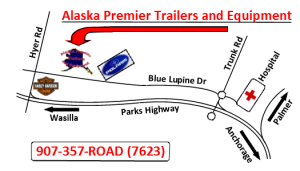 5816 E Shop Cir, Palmer AK 99645
Hours: Monday-Saturday 10am – 6pm
Take the Trunk Road exit and head north on Blue Lupine from the roundabout. We are immediately on the right, after our friends at the New Hatcher Pass Polaris dealership.
Parks Highway frontage road, 2.5 miles on the Wasilla side of the Parks and Glenn Highway interchange.